If you're looking for ways to improve your business, increase productivity, boost revenue, and have more overall success, one thing makes a difference: people working together.
In this article:
People Working Together | The Importance of Teamwork in a CRE Business
The Essence of Teamwork in a CRE Business
As in almost every industry, commercial real estate businesses can benefit significantly from people working together.
Perhaps your workplace is one where competition is encouraged or maybe you employ individuals who work primarily from home. An example of the former is the fact that brokers need to compete with one another when it comes to closing deals.
These workplaces are not the best places for teamwork, but it doesn't mean your business can no longer take advantage of it. In fact, many businesses encourage it by making up challenges that will force their employees to work together.
Why is this necessary? The process of teaming up helps reinforce trust among workers and promotes a broader sense of ownership and accountability.
What Does Teamwork in the Workplace Look Like?
Teamwork involves a group of people getting together to accomplish a common goal. It's much like people working together in a community to clean up a park or build a community center.
When everyone has a common target, minds will come together and ideas will fly. Most importantly, they can achieve their individual goals while growing as a team.
The headcount doesn't matter, this strategy can apply to small teams of 2-3 and reach up to larger organizations. It makes your CRE business run more efficiently, with fully functioning unique parts that contribute equally to the greater good.
RELATED: 2 Forms Of CRE Teams – Which One Is Best For You?
What Are the Specific Benefits of People Working Together in a Business?
Here are the top ways working together can benefit your workplace:
1. Teamwork Helps Employees Get to Know One Another
Your associates or agents may be working together every day, but it doesn't mean they know each other well as individuals.
Teamwork helps facilitate a strong tight-knit culture and boosts morale.
2. Working Together Reinforces Trust
Your team members need to work together to achieve a common goal. For that to happen, though, they need to know they can trust each other.
It doesn't mean you need to start performing trust falls. It implies you need to encourage them to go to other members and ask for assistance.
For example, you need your lead generation or prospecting department to work closely with the marketing division. The only way to do this is to set up a scenario where both have no other choice but to communicate.
In turn, both know they are responsible for each other's performance and success. They need to do their jobs to the best of their ability so both can succeed.
3. Teamwork Assists with Problem-Solving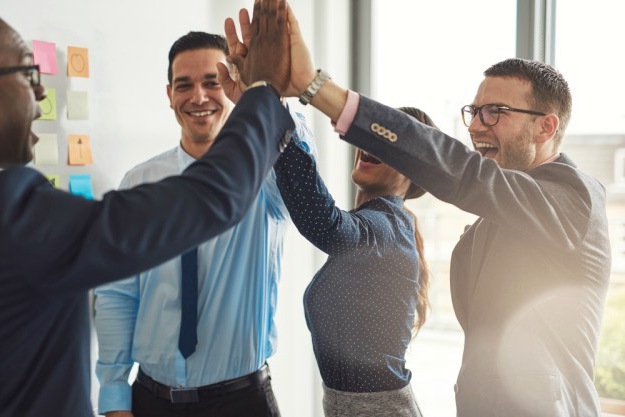 It's not reasonable to expect the leaders of a business to be available 100% of the time.
In most cases, forcing employees to handle issues or questions on their own can be a great growth opportunity. It improves conflict resolution skills. It teaches them how to think outside of the box, communicate, ask for help, trust other people, and work with others to solve the problem.
4. People Working Together Can Help Individuals Find Their Strengths
When employees work together to complete a goal, every individual matters.
The beginning of these teamwork sessions can be difficult. Individuals don't precisely know where they stand and why they matter.
Someone may take the lead but isn't a "natural-born leader." Individuals may end up doing jobs they are not good at.
Everyone has a set of unique strengths they can bring to the table. People working together can be the key that can unlock each of these strengths.
5. Teamwork Encourages Creativity and Helps People Think Outside the Box
When you leave your employees alone long enough to start working together and solving their problems, you'll get some great results that can benefit your CRE business in more ways than one.
Often, it only takes your watchful eye being out of the picture for a little while for their creativity to spark. They can exchange ideas without fearing judgment. They can develop new tactics and strategies and provide a safe environment to try them out.
6. Teamwork Raises the Bar
People working together can help encourage healthy competition and raise the bar of the overall work output.
Individual employees see their coworkers coming up with new ideas and being creative, and they want to get in on the fun. They see their success in a teamwork environment can improve their status and position as well.
How to Encourage Collaboration in Your Workplace
Are you looking for ways to improve the teamwork in your workplace? Try these tips:
Reward it: When you see people working together, reward the behavior with praise, small treats or gifts, or other benefits.
Lead by example: Don't be an insular leader. Ask for help when you need it and collaborate as much as possible.
Encourage a social aspect of the job: Have a water cooler available, curate a nice stash of goodies in the break room, give slightly longer breaks, and organize outside-of-work functions. By encouraging socialization, you're encouraging teamwork.
Set goals that force employees to work together: Don't delegate individual roles. Let your employees figure out what and how they need to accomplish each step of a larger goal. This will encourage them to work together with other workers and departments.
Teamwork in the workplace is an essential part of any business. Create scenarios that will encourage people to work together. Set them up for both individual and company success.
Get known, connect instantly, and win more business! In this webinar session, Bo Barron will show you how presence, a great value proposition, and a targeted prospecting campaign can grow your business without chaos! You can watch the webinar here.
Up Next: A Step-By-Step Guide For Setting Team Goals Effectively