Need to learn how to increase email open rates? Take your blogging from good to great while keeping your unique voice with these tips.
In this article:
10 Tips to Get Readers to Open Your Emails
1. Keep a Clean List – Segment Properly and Remove Non-Openers
The first step of learning how to increase email open rate is to know your audience. Before even thinking about what will go on your email, find different ways to segregate your lists. This can be done by separating them according to their demographics like gender or job title. You could also separate them based on their user data, such as what they like to buy or their surfing habits.
2. Make It Easy to Unsubscribe to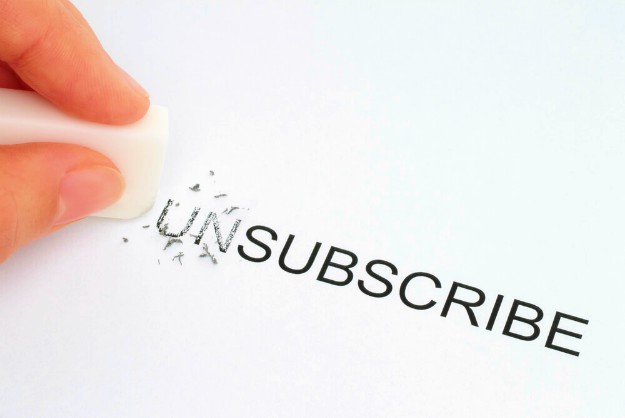 The unsubscribe option should always be present in an email campaign or newsletter. This is a great way to keep your list clean and remove the readers who don't want to be there.
3. Only Send to Your Most Engaged Readers
Your most engaged readers are very important to your email open rates. These are your readers that keep coming back for more and are clicking through your links or to your site directly. They should be the priority on your list, if not the only set of people you should send to. This is effective in increasing newsletter engagement. Sending to these readers also reduces your chances of getting marked as spam.
4. Be a Reputable Sender That Your Audience Identifies With
Personalization is key to develop lasting #email subscriber relationships. But list segmentation and targeted campaigns are only the beginning when #AI is running behind the scenes: https://t.co/53sFboFAkj pic.twitter.com/P3scXmQ5Ba

— ReturnPath from Validity (@returnpath) November 26, 2018
Readers tend to ignore emails from companies or brands they have never heard of. A study shows that senders with a high reputation are 23% more likely to reach their intended readers. A great tool for you to know if you are a reputable sender or not is SenderScore. The better your sender reputation, the less likely your emails will land in spam folders.
5. Use Short Subject Lines That Spark Interest or Use Urgency to Trigger Action
https://www.instagram.com/p/BozINPvH0f8/
According to this Litmus study, the subject line is the second thing a reader will check after the sender name. Depending on your brand, being straightforward and well-branded is a more effective way of writing your subject line. As obvious as it sounds, your subject should always be a preview of what is in your email.
The use of urgency is another great way to improve email open rates. Make people curious about what is in your email by giving them that feeling of FOMO (fear of missing out). Make compelling subject lines and be as concise and as possible. This will not only keep the attention of the reader but enables you to cater to the readers who are on their mobile device.
6. Format Your Emails to Be Readable on Desktop and on Mobile
With mobile becoming the preferred way we access information, formatting your email to cater to both desktop and mobile is key to increasing your open rates. Don't prioritize one over the other, you need to make sure you get both sets of readers. Format it in such a way that you can easily scan through the email like a blog post.
7. Personalize Your Emails and Deliver Clear Messages
In addition to adding their names on the emails, you should also personalize the content they see. By using your segmented lists, you can easily curate and customize emails for different groups of readers. The more data you can get from your readers, the better the personalization. Similar to your subject line, send clear and concise messages throughout your email. Be straightforward and tell them what awaits them if they click through.
8. Use Links in Your Email to Appeal to Readers' Curiosity, Needs, and Scarcity
While customizing and personalizing your emails, links will play a big part in its content. Giving them links to specific posts on things they would need or find interesting is a great way to improve click-through rates and not just email open rates. One great way to get them to click on one of these links is to let them realize how much they actually needed something that they only found in your email.
9. Your Landing Page Is an Extension of Your Email – They Must be Seamlessly Aligned and Congruent
Where your email readers land on your site is also important. The information and content they see on the landing page should be aligned with what was found in the email that they have read. This may also contain other information somewhat related to what they clicked for. The goal is to let your readers continue to click through your content beyond the email and the landing page.
10. Each Audience Group is Different – Split Test Everything to See What Works
Split testing is just that, splitting your readers into two groups and showing one group the original content while the other gets the adjusted content. This a great way to test the effectivity of a new element such as a new call-to-action or a new click-through button, for example. With every new alteration and idea, do a split test to see which works and which one doesn't.
Let this infographic be your guide. Download it now and use it as a reference later.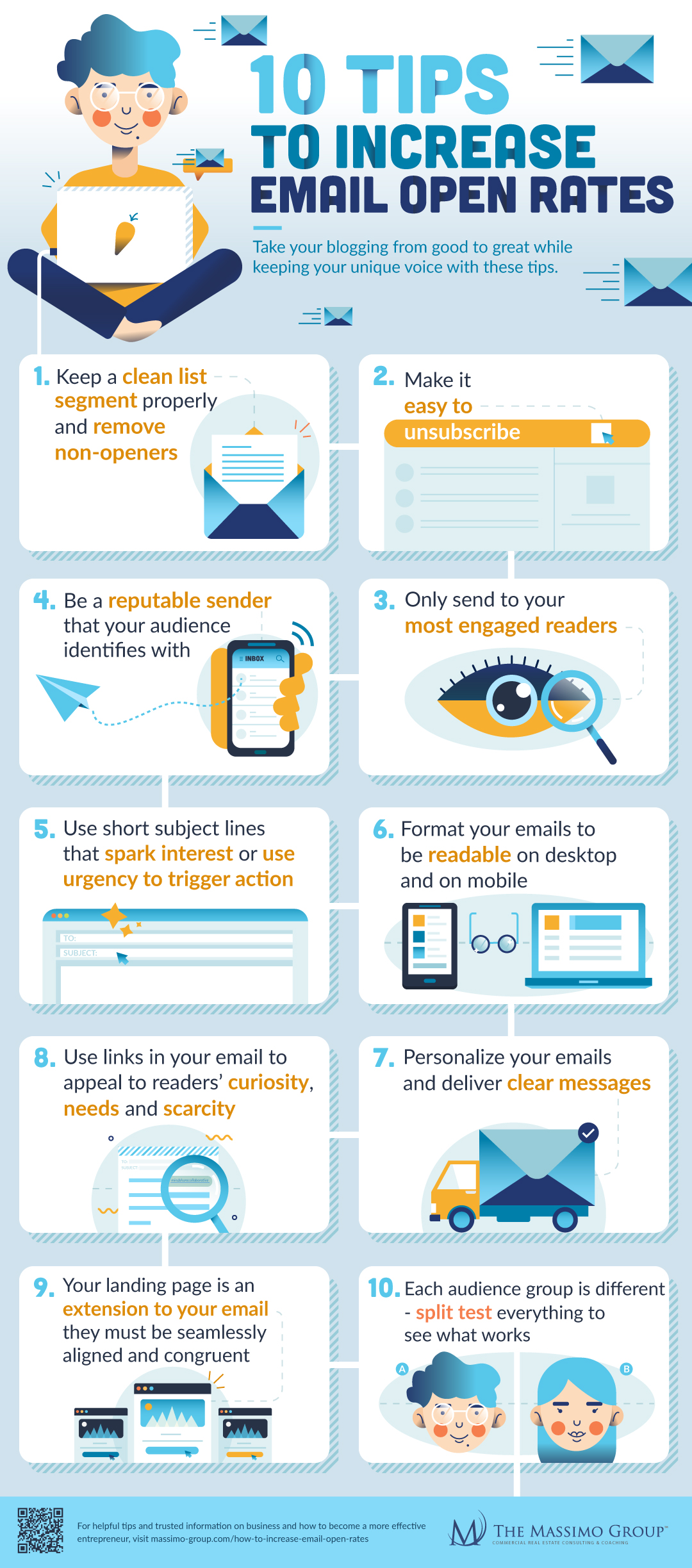 Learning how to increase email open rate is a long process with many variations, optimizations, testing, personalizations, and implementations. Use these tips to help your email campaign not only get an increase in email open rates but also, hopefully, convert to click-throughs and beyond.
Get known, connect instantly, and win more business! In this webinar session, Bo Barron will show you how presence, a great value proposition, and a targeted prospecting campaign can grow your business without chaos! You can watch the webinar here.