It's hard to believe, but true, as of today there are only 4 work weeks left in 2016.  Think about it, only 20 days.  If my almost 30 years in the commercial real estate industry have taught me anything, it is that over 95% of the deals, clients, prospects and even colleagues shut down after mid-December.
As of Friday, December 16, for all intended purposes, your work year, at least in regards to transactions, is complete.
I find that knowing there is a limited time to get a project done is invigorating.  Yes, there is the element of added pressure, but also the excitement of making significant progress, of moving forward.
Why the focus on the next 20 days?  Well, for most of our readers, your commission splits are at the highest point of the year.  Hopefully by now you have pushed through those first and second tiers of your company commission structures.  If not, let's talk.  Also, in many cases these final deals of the year will propel you to recognition in your company or network, even afford you the opportunity to win an award or bonus.
So, let's just assume you want to get some deals closed before December 16th.  What are the keys to getting deals done in the next 20 days? 
Step one – Review your pipeline – right now. 
Look at each transaction and be honest with yourself.  Which opportunities can you get under contract, lease signed, financial commitments made or representation secured.  Also, identify the opportunities that you recognize will have little chance of significant movement before the rest of the year.
Step two – Prioritize only those opportunities that are better than 90 percent of moving forward. 
This is a gut call.  There are no proven criteria for identifying high-probability opportunities, but let me share four possible variables:
Your client has a personal incentive in getting the deal closed before the end of the year.  Partners and spouses can be a big motivator!
Your client has tax consequences in getting the deal completed before the end of the year.
Your client has personal bonus consequences in getting a deal completed before the end of the year.
The landlord and/or opposing broker has motivations to getting the deal done before the end of the year.
Step three – Set a plan TODAY to focus on these opportunities. 
Go see, NOT EMAIL, go SEE the individuals that have the greatest impact on getting these high probability opportunities closed before year end.  If they are located outside your market – go fly and SEE them, or at least set up a video conference call.  Together, acknowledge this objective and together, set a plan of action over the next 4 weeks to make this a reality.
Four weeks, 20 workdays.  That's all you got.  What you do today will impact how strong you finish 2016 as well as how fast you start 2017.
---
If you want to make 2017 your best CRE year yet, be sure to join me for a live webinar on December 1 at 1 PM Eastern. You will not want to miss out on this high-impact and highly engaging event. There is no reason 2017 can't be your best CRE year yet. Take the first step and register now!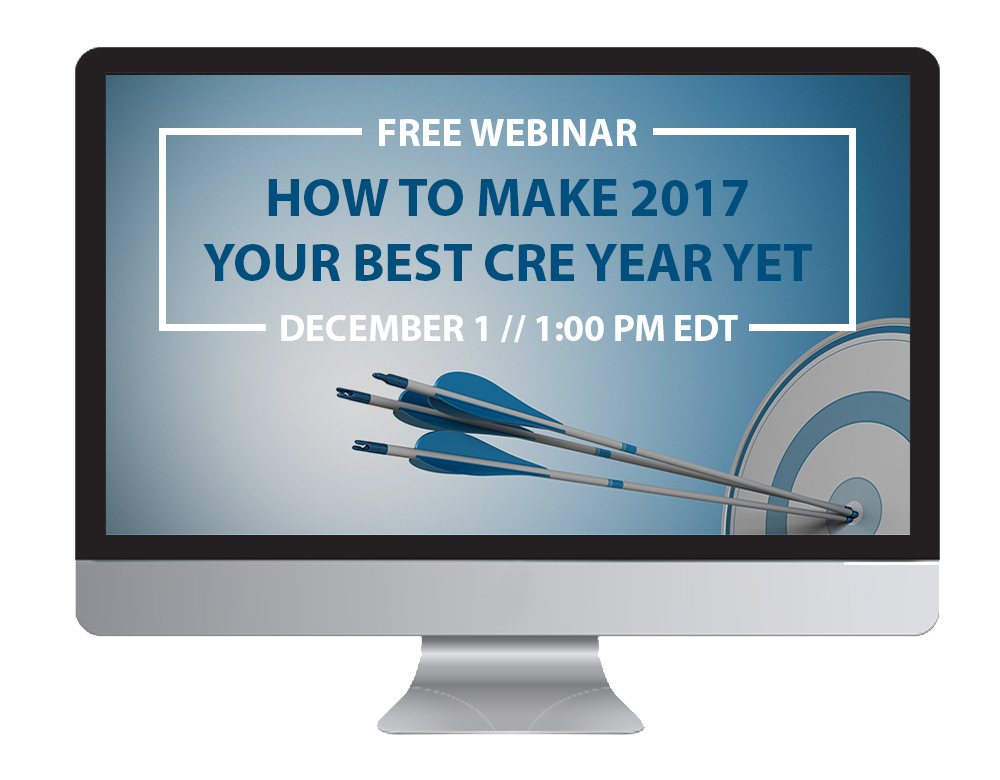 ---