Get your CRE business holiday-ready and try out these creative marketing ideas.
In this article:
11 CREative Marketing Ideas for the Holidays
1. Client Appreciation Night
Make your clients feel extra special for the holidays by inviting them to a client appreciation night. Plan a fun and exciting night for your clients. You can organize a themed event and encourage clients to dress up. For the program, you can invite a live band for the performances. Similarly, you can even invite some clients for a performance on stage, if they are willing.
A fun and relaxing client appreciation night works wonders. It boosts customer loyalty for your current customers and builds rapport with your prospective clients. Additionally, it is a good way to build a network for both you and your customers. Your clients can meet possible suppliers and customers at the event. Likewise, they can also bring in potential leads for your business.
2. Tree Lighting Event
Spice up your office by decorating it with garlands, lights, and of course, a tree. You can invite your customers to your tree lighting event. Like the client appreciation event, this will boost customer loyalty and is a good way to deepen customer engagement.
3. Charity Events
Another great marketing idea for the holidays is to join charity events. Your commercial real estate business can gain positive recognition from the local community by joining a good cause. Some holiday marketing ideas include the following:
Setting up a donation box for toys, clothes, and books for the local orphanage.
Handing out a collection box for loose change for your charity of choice.
Sending out an email about the charity event to clients who might donate, and if possible, join the event itself.
4. Sponsorships
There are many community and business events during the holiday season. There are various events such as franchising seminars you can tap to market your business. Sponsoring holiday events can help raise public awareness about your business which can help you generate more leads.
As a sponsor, organizers might ask you to donate something. Instead of donating money, you can donate promotional items with your name and contact details. Holiday mugs are great and practical giveaway items you can donate for the event. You can also donate gingerbread or cookies and tie the package or gift basket with a ribbon featuring your business logo.
5. Squeeze In a Client Visit
Surprise your clients by visiting them during the holidays. Winter is a good time to show your thoughtfulness and determination to work with past and prospective clients. First, you can call their secretary or receptionist to ask if their schedules can accommodate visitors. Then, you can pop in for a visit with a thoughtful gift for them, like a bottle of wine. Keep your visit short, about 20 to 30 minutes long, and casual. Do not make them feel like you are forcing them to make a referral or purchase a property. In contrast, your visit should just remind them that you are looking forward to working with them again next year.
6. Send Holiday Gifts and Cards
Rather than personally picking a gift for your clients, you can send them corporate giveaways instead. When choosing your corporate gift, consider its usability and visibility. You want your clients to often see or use your gift to them for a long time. This way, your business will be at the top of their minds for the succeeding year as well. Some marketing ideas include:
2019 office calendars they can use in their office
A planner to help them organize their schedule and appointments
An umbrella with your business name, logo, and/or website
If you cannot personally deliver your gifts to your clients, mainly due to location constraints, use a reliable delivery service instead.
You can also drop greeting cards into their mailbox. Write a simple thank-you note with your signature on it. To make it more personalized, you can add a personal photo of you with your client such as your first closed property with them.
7. Give Holiday Discounts
Collaborate with seasonal service providers to offer discounts for their services to your clients. Convince them that giving a bit of discount to your referrals will be a good way to increase their clientele. In return, you can also provide them with rewards for their referrals. This is a win-win partnership on both sides.
Some marketing ideas for holiday discounts:
Create a list of all shops that have discounts and include them in your next email.
You can also send a discount card or stub to your clients to make it easy to take advantage of the deal. You can include the card or stub in your next direct mail.
8. Christmas Decorations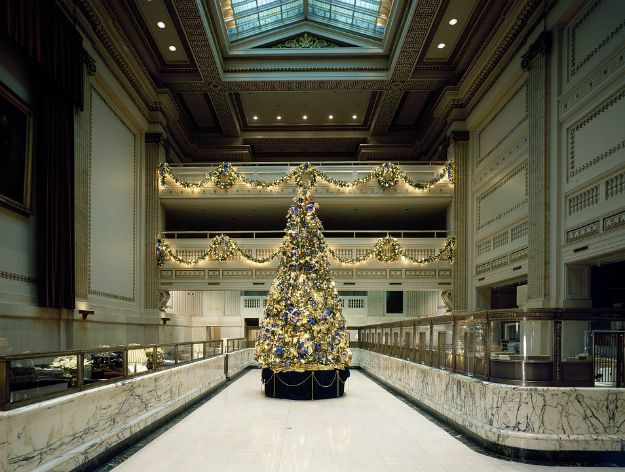 Get your office set up for the holiday season with decor and carols. You can hang the decorations together with your business logo. Displaying your holiday-themed business logo in your office implies that you are ready to celebrate it with your customers.
Aside from decorating your office, you can also send customized decorations to your customers. For instance, you can send customized Christmas ornaments with your logo or gift stockings with your website on them. This will remind past and prospective clients of your business during the holidays.
9. Post a Year-End Review
Testimonials indicate how trustworthy you are as a commercial real estate agent. Having people endorse your service is an effective way to convince potential clients to hire your services. This holiday season, you can ask your top clients to give an honest review of your service. You can post it strategically on your website and share it on your social media. To create more buzz, you can write a brief experience with your client when sharing your post.
In contrast, you can indirectly ask for testimonials by posting about the sale first before the client. You can tag or mention your clients to give them the opportunity to comment when they see your post.
10. Change Your Email Template
Email marketing is one of the best strategies to build a relationship with clients. You can collect email addresses using your website, events or seminars. Send regular messages to your email list regarding relevant topics and tips such as local news that may affect property prices. However, your email template should be in line with the season.
For this holiday season, make your readers experience the festivity of the holidays in your email. Change your email template into a holiday-themed one. Your content can also contain events, like your charity event, that is somehow related to the holidays. You can also remind your clients about upcoming events such as your client appreciation night in the email.
11. Publish Holiday-Themed Posts
Excite your clients this season by publishing holiday-themed posts on your social media accounts. Your posts should connect the holiday season and commercial real estate. For instance, publish an article on how to decorate their commercial spaces this holiday season.
This holiday season, give back, rather than asking for something. If your clients see your sincerity and persistence through your marketing ideas, they will place their trust in you and continue to deal with you long after the holidays are over.
Are you still cold calling? There is a better way! Top producers don't cold call, they execute a targeted and proactive prospecting campaign. Here is a 5-minute audit to see how your prospecting stacks up against the best in the CRE industry! Take the Prospecting Audit.
Up Next: Maximize Your Branding Strategy By Identifying Your What-Ifs